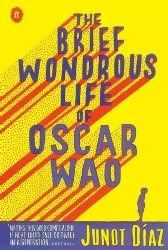 The Brief and Wondrous Life of Oscar Wao
is the story of Oscar Cabral, an overweight, nerdy, and utterly atypical Dominican aspiring sci-fi and fantasy author who lives in New Jersey. It's also the story of his sister, Lola, of his mother, Beli, of La Hija, who brought her up, and of the lives Oscar's grandparents lead in the Dominican Republic under the dominance of dictator Rafael Trujillo.
The story moves back and forth in time, with different sections focusing on different characters and offering different points of view. Lola's section is narrated in the first person, and it took me a while to realize who the other first person narrator was. And if this sounds confusing, don't worry, it isn't. The structure works perfectly the way it is. And the more you learn about the characters' backgrounds and about the past, the more significant things become, the more power the story gains.
Reading this book taught me so much about the Dominican Republic. I knew there had been a dictatorship there for a great part of the twentieth century, but I had no idea about the specifics. I didn't know any of the horrifying details – the genocide of the Haitians, the rape of young girls, the senseless brutality.
The Brief and Wondrous Life of Oscar Wao
is full of horror, tragedy, loss, death, unspeakable violence. But it's also full of humour, life, energy, love, even hope. It's a book that made me laugh and made me cry, both alternately and simultaneously.
Plus, it has just a touch of magic realism, which is something that always gives a book cool points in my book. Oscar's family believes they are the victims of fukú, a very powerful Dominican curse. And plus there are the inexplicable apparitions of the Golden Mongoose.
And if all of this wasn't enough, there are all the nerdy references: to the Twilight Zone, to comics, to Lloyd Alexander, to Ursula Le Guin, to the Sandman, to Dune, to
The Lord of the Rings
. How could I not love a book with sentences like "…and a guardedness so Minas Tirith in la pequeña that you'd need the whole of Mordor to overcome it" or "Closed his eyes (or maybe he didn't) and when he opened them there was something straight out of Ursula Le Guin standing by his side. Later, when he would describe it, he would call it the Golden Mongoose, but even he knew that wasn't what it was."
There was just one tiny thing I had a bit of a problem with. At one point the narrator tells us:
At the end of

The

Return of the King,

Sauron's evil was taken by "a great wind" and neatly "blown away", with no lasting consequences to our heroes; but Trujillo was too powerful, too toxic a radiation to be dispelled so easily. Even after death his evil lingered.
This made me wonder if perhaps we'd read different versions of
The Return of the King
. You can perhaps say that
The Lord of the Rings
doesn't leave too much room for ambiguity, and that Sauron is the ultimate one-dimensional villain. I don't care, though, because the books are so completely awesome in so many other ways. You cannot say, however, that at the end the bad guys vanish and that all the terrible things that happened leave no enduring consequences. You really can't. Taken out of contest, this passage could give you the impression that all the nerdy references are given in a mocking, superior, dismissive "look at how silly and unlike real life all this stuff is" tone. But that isn't the case at all. I'd have been very annoyed and disappointed if it were. And it's exactly because that isn't the case that I was surprised with that passage.
But anyway. This is a great book. One thing: there's a lot of Spanish in the text. And I mean a
lot
. It made me wonder if readers who don't understand it would feel lost and/or annoyed after a while, but
raych
said it didn't happen. Most of the time the context does seem enough to make the meaning of what's being said clear enough.
I feel like I'm doing a lousy job explaining what this book actually is about. But that's because it's about so many things. About immigration, about love and loneliness and longing, about living under a horrifying dictatorial regime, about parents and children, about loss, about death. I loved loved loved the very ending. The thing about the little unexpected intimacies. I can't say more without giving too much away, but you know when you think you couldn't enjoy a book more, and then the very ending makes you like it all that much more? I love it when that happens.